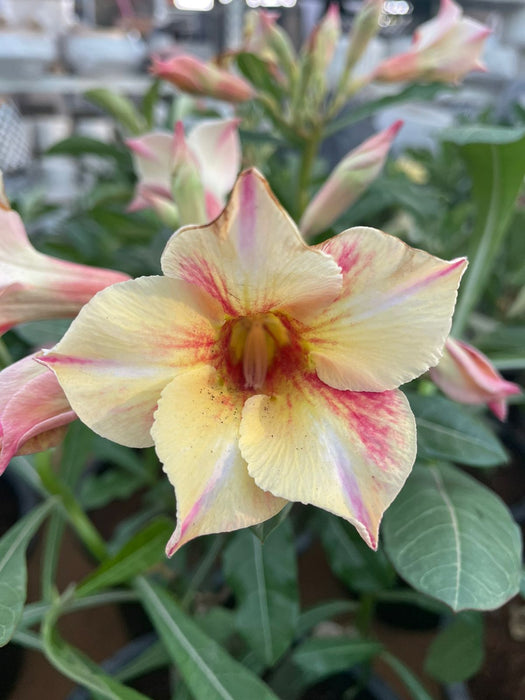 Adenium " Grafted" (Sabi Star/Desert Rose/Impala Lily/Kudu/Mock Azalea)
Save

0

%
Save %
Original price
Dhs. 85.00
-
Original price
Dhs. 85.00
Description
Plant Care
Disclaimer
Adenium plants are very popular due to their varied flower types. Rosy adeniums are ones with multiple layers of petals. Rosy desert rose plants are hybrid created using cross-pollination for the most part to get the usual colors and petals. The Adenium is one of the most grafted ornamental plants in Asia, and for good reason. So many beautiful varieties of interesting colors, patterns, and forms have come about.

Grafting is taking a branch from a known flower type adenium plant and attaching it to a standard adenium rootstock (base). The flowers from the grafted branch will produce the same flowers as the parent desert rose plant. Yes, sometimes a regular adenium seed will produce a non-standard flower type but it's very unusual.

For your Impala lily to flourish it needs full sun.

These plants will grow vigorously on generous watering during hot weather. However, it is very important not to keep the soil soggy.

Soil mix must be one-third each of potting soil, compost, and sand.

They grow best when days are in the 80's and 90's Fahrenheit.

When in growth, feed with any balanced complete fertilizer with micronutrients once or twice a month.

The image shown is for reference purposes only. The actual product may vary in shape or appearance based on climate, age, height, etc. and Plants will be delivered in plastic pots unless different Pot options are selected by the customer explicitly.

All information here is provided in good faith, however, we make no representation or warranty of any kind, express or implied, regarding the accuracy, adequacy, validity, reliability, availability or completeness of any information on the site.