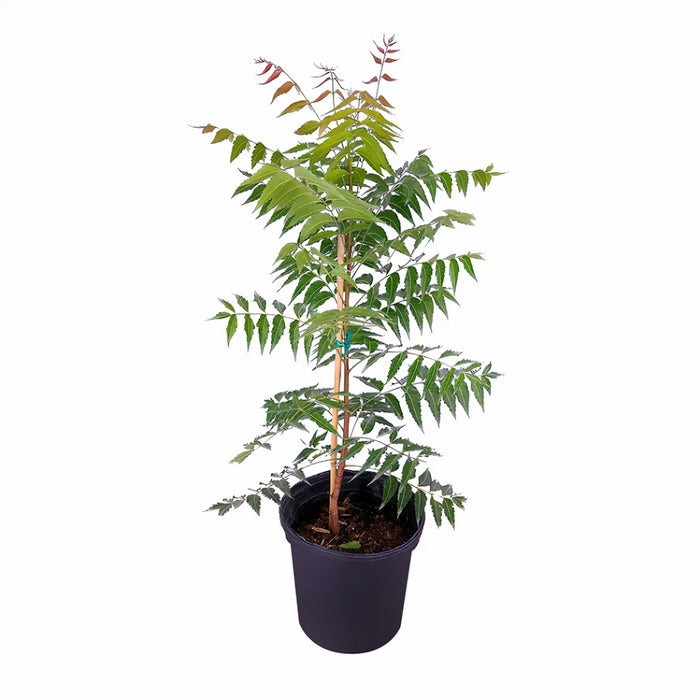 Azadirachta Indica (Neem/Nimtree/Indian Lilac)
Save up to

0

%
Save %
Original price
Dhs. 75.00
-
Original price
Dhs. 350.00
Description
Plant Care
Disclaimer
Neem (Azadirachta indica), a member of the Meliaceae family, commonly found in India, Pakistan, Bangladesh, and Nepal, has therapeutic implications in disease cure and formulation based on the fact that neem is also used to treat various diseases. The leaves are alternate, petiolated, clustered at the end of the branches, unequally pinnate, glabrous, and dark glossy green at maturity. The flowers are numerous, fragrant, white, and borne in large clusters. Neem fruit has a thin epicarp, a mucilaginous fleshy mesocarp, and a hard endocarp.

With globalization, it has gained even more recognition and acceptance worldwide, especially for having no side effects or complications. By virtue of its natural antibacterial and antimicrobial properties, it has diverse applications in dentistry, as most oral diseases are microbe induced.

Neem trees require plenty of bright sunlight.

The trees benefit from regular moisture, but be careful not to overwater. Allow the soil to dry between every watering.

Good quality, well-drained potting soil is preferable.

15 - 45 °C

A light application of any good quality, balanced fertilizer, or a dilute solution of water-soluble fertilizer.

The image shown is for reference purposes only. The actual product may vary in shape or appearance based on climate, age, height, etc. and Plants will be delivered in plastic pots unless different Pot options are selected by the customer explicitly.

All information here is provided in good faith, however, we make no representation or warranty of any kind, express or implied, regarding the accuracy, adequacy, validity, reliability, availability, or completeness of any information on the site.