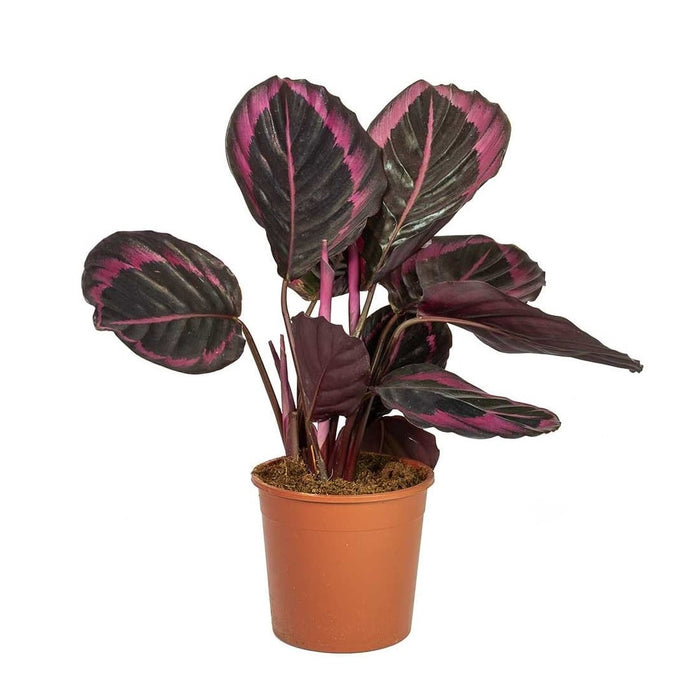 Calathea Rosea-Picta 'Dottie' (Black Rose Calathea)
Save

0

%
Save %
Original price
Dhs. 100.00
-
Original price
Dhs. 100.00
Dhs. 100.00
-
Dhs. 100.00
Current price
Dhs. 100.00
Description
Plant Care
More Information
Disclaimer
Add some contrast to your green jungle with the Calathea Roseopicta Dottie. The Calathea Dottie features large, deep purple leaves marked with pink variegation around the leaf edge, a pink midrib, and a pink underside, making it a head-turner. A perfect fit for both homes and offices, what's more, is that it purifies the air and is also pet friendly.

A darker variety of Calathea, Roseopicta Dottie adds an attractive contrast to the greener varieties. Similar to Calathea Makoyana, Calathea Dottie has elliptic, feather-like foliage with striking stripes. The deep green burgundy leaves have a hashed pink border and a central pink stroke.

Bright indirect sunlight.

They need constant misting & watering only if the soil is dry 2 inches down.

This plant needs a mixture of perlite and coco peat to give good growth.

15 - 30°C

Apply any organic fertilizer once or twice during the growing season.

Common Problems:

1. Calathea leaves are turning brown

Under-watering and excessive use of fertilizer both can lead to the browning of leaves. Water your plant less frequently and reduce the amount of fertilizer you use if this problem occurs and persists.

2. My Calathea leaves are curling

A lack of moisture causes the curling of Calathea's leaves. Make sure you are watering your plant enough to avoid this. You can also mist your Calathea several times a week.

3. Why are Calathea leaves yellowing?

Yellowing leaves are a sign of over-watering. If you notice yellow leaves, check the soil and roots. If the roots are too mushy, reduce the frequency of watering to avoid root rot.

The image shown is for reference purposes only. The actual product may vary in shape or appearance based on climate, age, height, etc. Plants will be delivered in plastic pots unless the customer explicitly selects different Pot options.

All information here is provided in good faith, however, we make no representation or warranty of any kind, express or implied, regarding the accuracy, adequacy, validity, reliability, availability or completeness of any information on the site.