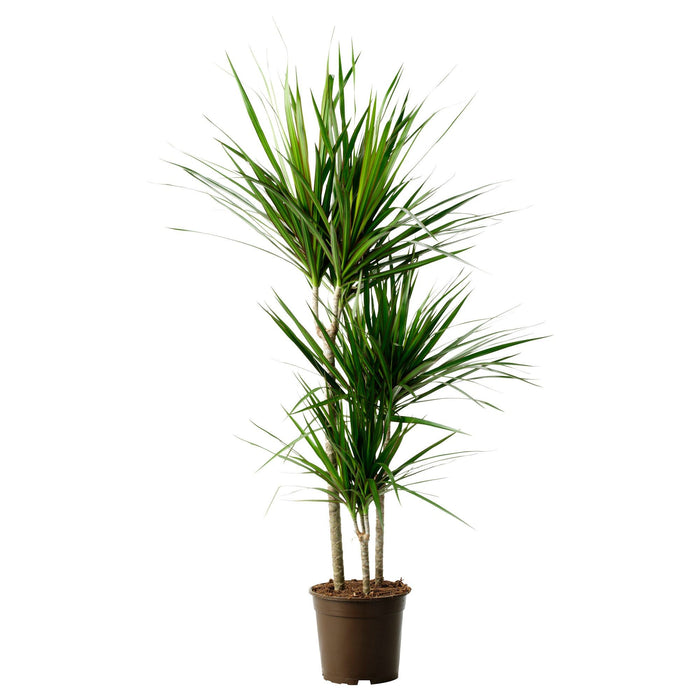 Dracaena Marginata "Dragon Tree"
Save up to

0

%
Save %
Original price
Dhs. 95.00
-
Original price
Dhs. 195.00
Description
Plant Care
Disclaimer
Dracaena (Dracaena marginata) plant placed in the family Asparagaceae also known as dragon tree, is an attractive, stiff-leaved plant with green sword-like leaves edged with red. The plant has narrow, slender grey stems that are topped with shiny, arching leaves that are sword-shaped.

A member of the Dracaena family, this durable plant can easily be mistaken for a palm plant. Marginate house plant is are carefree and has thin leaves with vibrant colours. It thrives in a large range of environments. Most grow strongly upright with long variegated leaves with a large array of colours. Dracaenas grow well at average room temperature and like ample light.

Place your plant in a place that receives Natural direct / Artificial bright Light.

Do not overwater the plant. As a rule of thumb, water the plant thoroughly in the summer and reduce watering in the winter and rainy seasons.

The soil should be well drained and fertile, rich in organic content.

15 - 35°C

During the main growing season feed the plant with organic fertilizer once a month.

The image shown is for reference purposes only. The actual product may vary in shape or appearance based on climate, age, height etc. and Plants will be delivered in plastic pots unless different Pot options are selected by the customer explicitly.

All information here is provided in good faith, however, we make no representation or warranty of any kind, express or implied, regarding the accuracy, adequacy, validity, reliability, availability or completeness of any information on the site.