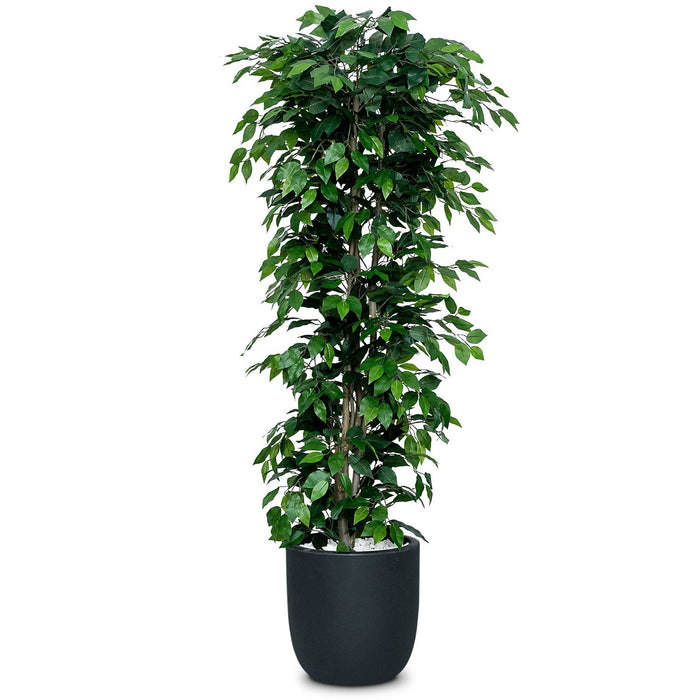 Ficus Nitida "Cone"( Curtain Fig/Gajumaru/Ficus Microcarpa/Chinese Banyan Tree)
Save up to

0

%
Save %
Original price
Dhs. 250.00
-
Original price
Dhs. 350.00
Dhs. 250.00
-
Dhs. 350.00
Current price
Dhs. 250.00
Description
Plant Care
Disclaimer
The ficus nitida tree, also called Curtain fig, is an evergreen with light to medium gray bark and thick foliage. It is native to Asia where it can reach heights of up to 60 feet. The foliage of ficus nitida is thick and has a weeping growth habit. Ficus nitida, commonly referred to as Indian Laurel is an extremely versatile tree that has many uses.

These can be grown in tree form providing an abundance of cooling shade, or they can be column style and planted together to form a green wall of privacy. No matter how you grow your ficus, these trees are sure to be one of the best trees on your property. Easy to grow and care for, these trees can be planted in nearly any landscape style.

At least 3-6 hours of preferably morning sunlight a day is ideal for plant to grow well and natural indirect bright light for the rest of the day.

Soil should be kept moist, but not wet, and allowed to dry out a little between watering.

The soil should be well drained and fertile, rich in organic content for growing plant.

18 – 40 °C

During the main growing season feed the plant with organic fertilizer.

The image shown is for reference purpose only. The actual product may vary in shape or appearance based on climate, age, height etc. and Plants will be delivered in plastic pots unless different Pot options are selected by the customer explicitly.

All information here provided in good faith, however we make no representation or warranty of any kind, express or implied, regarding the accuracy, adequacy, validity, reliability, availability or completeness of any information on the site.