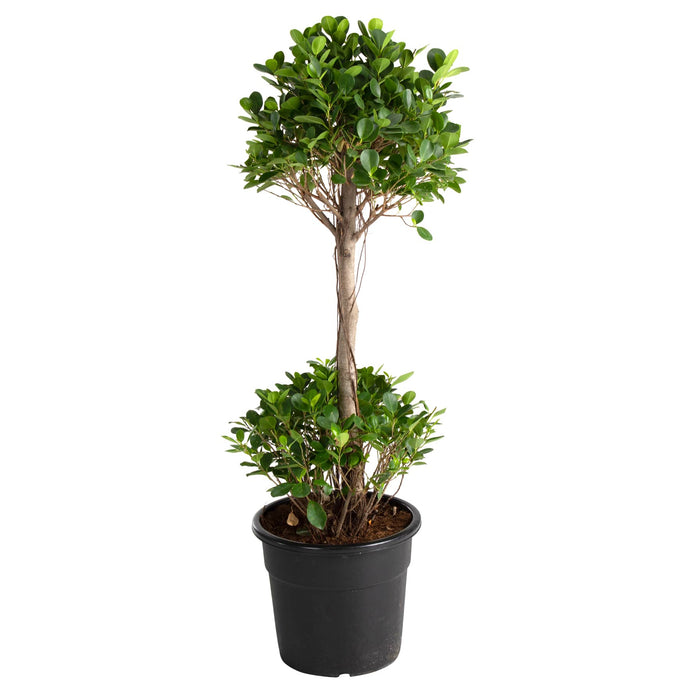 Ficus Panda (02 Heads)
Save

0

%
Save %
Original price
Dhs. 185.00
-
Original price
Dhs. 185.00
Dhs. 185.00
-
Dhs. 185.00
Current price
Dhs. 185.00
Description
Plant Care
Disclaimer
Ficus is evergreen perennial tree in Moraceae family. This is rapidly growing, rounded, broad headed, evergreen tree with the glossy, dark green, leathery leaves are densely clothed and trunk is quite smooth, light grey in color. The evergreen bushy tops are a statement piece for interior decor, and the name is great too!

The Ficus Panda is a delight. It has a thick, greyish trunk that develops aerial roots that give the plant its exotic look, reminiscent of the trees surrounding temples in South East Asia. Ficus Panda is a bushy plant. Make an eye catcher display in your outdoor and indoor spaces with an excellent Ficus panda plant.

At least 3-6 hours of preferably morning sunlight a day is ideal for plant to grow well and natural indirect bright light for the rest of the day.

Water once a week or when the soil starts to become slightly dry at the top. Keep the soil lightly moist at all times, but do not overwater.

The soil should be well drained and fertile, rich in organic content for growing plant.

15 – 35 °C

During the main growing season feed the plant with organic fertilizer.

The image shown is for reference purpose only. The actual product may vary in shape or appearance based on climate, age, height etc. and Plants will be delivered in plastic pots unless different Pot options are selected by the customer explicitly.

All information here provided in good faith, however we make no representation or warranty of any kind, express or implied, regarding the accuracy, adequacy, validity, reliability, availability or completeness of any information on the site.