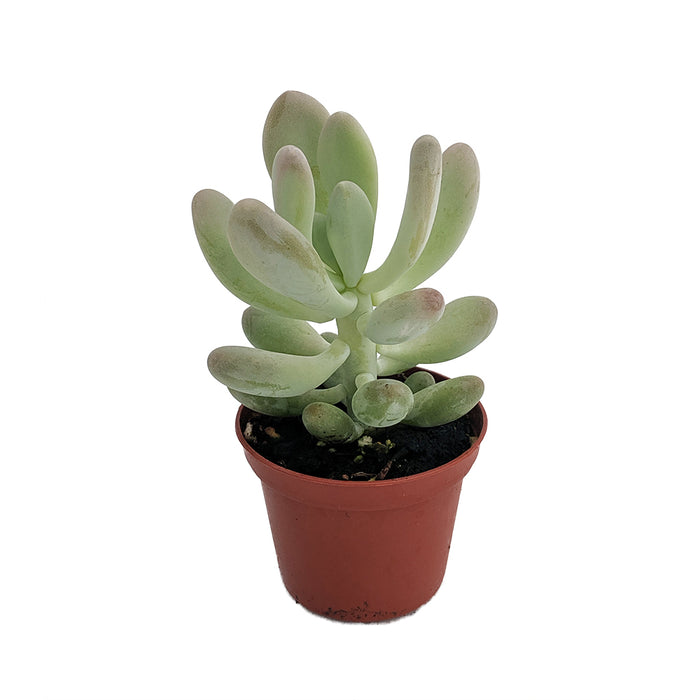 Pachyphytum Oviferum "Sugaralmond Plant" (Moonstone)
Save

0

%
Save %
Original price
Dhs. 16.00
-
Original price
Dhs. 16.00
Description
Plant Care
Disclaimer
Pachyphytum oviferum, the sugaralmond plant or moonstone, is a species of plant in the genus Pachyphytum. The meaning of the name Pachyphytum oviferum is thick plant bearing eggs. Pachypytum Oviferum grows well in pots, container gardens, and terrariums. You can choose to pot yours individually or combined it with other succulents: in this case, It is recommended to keep a little distance between the different plants, to allow for easier watering and stronger growth of the roots and the leaves.

Moonstone succulent (Pachyphytum Oviferum), is a beautiful small to medium size succulent belonging to the Crassulaceae family and is native to the mountains of Mexico. It features super chubby leaves tightly packed, almost shaped like little eggs.

Our chubby succulent definitely loves the sunlight: to grow and stay healthy, this plant needs plenty of light.

Unlike many other succulents, need more watering. Always remember that Moonstone succulent is sensitive to overwatering and needs 'watering with care', otherwise the roots will rot and the plant will end up suffering from pests and diseases.

Like most all succulent plants, Moonstones do not like their roots to remain wet for prolonged periods, so their soil mix should be well-drained.

20 - 30°C

During the main growing season feed the plant with organic fertilizer once a month.

The image shown is for reference purpose only. The actual product may vary in shape or appearance based on climate, age, height etc. and Plants will be delivered in plastic pots unless different Pot options are selected by the customer explicitly.

All information here provided in good faith, however we make no representation or warranty of any kind, express or implied, regarding the accuracy, adequacy, validity, reliability, availability or completeness of any information on the site.