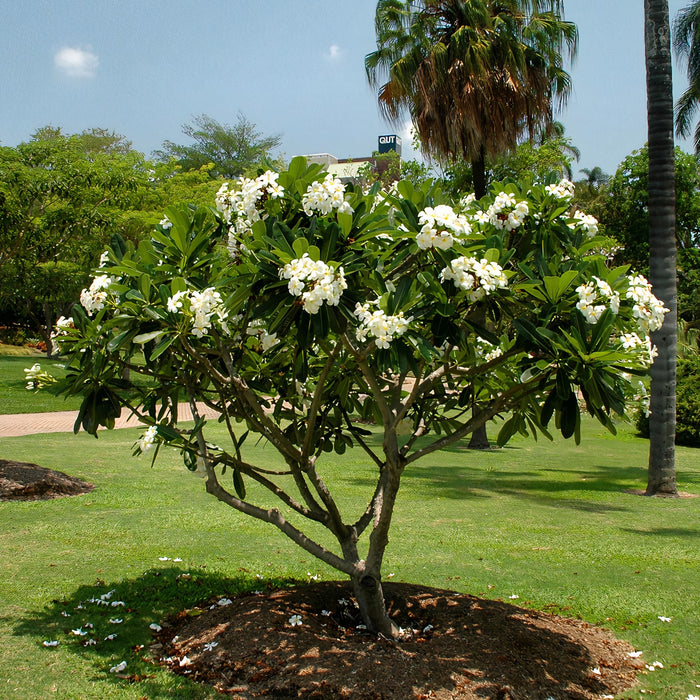 Plumeria Obtusa (Singapore Graveyard)
Save up to

0

%
Save %
Original price
Dhs. 90.00
-
Original price
Dhs. 350.00
Description
Plant Care
Disclaimer
Plumeria Obtusa sometimes referred to by other names such as Frangipani, Champa, and Singapore Graveyard is the world's most adored garden plant. It is a big species of tree or shrub that can be planted in subtropical and tropical climates. Plumeria flowers with their gorgeous colors and scents represent the beauty of nature

Plumerias grow slowly and have succulent, swollen limbs that are covered in milky latex. The thick, large leaves are arranged on top of the woody branches. Each Frangipani variety has its own unique scent! The flowers are utilized for making perfumes and scents. The fresh flowers of the plumerias are scattered around bowls and pools to create a beautiful decoration.

The Plumeria Obtusa plant is an ornamental flower that grows natively in the tropical areas of the West Indies. It is native to southern Mexico, Belize, Guatemala, and Florida and has become widely cultivated as an ornamental plant in many parts of the world. Its rosy flowers are particularly popular for summer flower arrangements. In addition to being native to tropical areas, the Plumeria obtusa plant grows well in a wide range of warm climates.

This beautiful plant grows best in full sunlight or partial shade, and it needs slightly acidic soil with good drainage. Because of its weed-like vigor, it grows well in containers and can be brought indoors during the winter months. When planting a plumeria, choose soil that drains well. In general, plumeria prefers a potting mix that is well-drained and contains plenty of peat moss.

Pruning is an effective way to control the growth of your Plumeria obtusa. You should prune it before new growth starts so that it will still flower in the same year. If you notice bent tips on your Plumeria obtusa plant, it is most likely a sign of stem borer. If you find this problem, cut the stem back to the juncture where it connects to the main branch. Likewise, if you notice any internal discoloration on your Plumeria obtusa Plant, it's time to kill it. The plant can be susceptible to whiteflies and spider mites, so use insecticides and other biological control methods.

If you're planning on growing Plumeria obtusa in your home, make sure the soil is suitable for the species. It needs nutrient-rich soil with a mix of loam, humus, dirt, and aggregates. The soil mix must have excellent drainage and should be a mixture of perlite and peat moss. Make sure the cuttings are also aerated so they do not become bogged down or knocked over during the rooting process.

The Plumeria obtusa plant can grow tall from 0.9 to 6.1 feet (0.3 to 2.4 meters). Its branched stems are thick and wide, and the leaves are glossy. The fragrant flowers grow in clusters at the end of branches, and they have five petals and are a perfect size for stringing a lei. The seeds are free to produce, so you can pick them whenever you like.

The Plumeria obtusa plant is a great addition to any tropical landscape. Despite the plant's exotic looks, it has a reputation for being somewhat poisonous. Its leaves are covered with rust, and you can prevent this problem by picking dead leaves off your plumeria plants before they fall. Unlike many other poisonous plants, the plumeria plant doesn't contain toxins or pesticides. However, the plant is prone to rust, and you can remove the affected leaves from your plants.

You can take the plumeria cuttings, which can be used as fertilizer. This plant is often mistaken for frangipani, a close relative to the plumeria. The frangipani is often planted as a sad stick, but it grows quickly and puts on a spectacular floral display. Thinning some excess stems is a great way to get a healthy plant if you have some excess stems.

Plumerias prefer bright sunlight and require at least 6 to 7 hours of direct sun every day.

Plumerias require profuse watering but the topsoil shall be dried out before the next watering.

Plumerias prefer fertile soil that provides good drainage.

15 – 35 °C

Use a general-purpose or NPK fertilizer during the growing season.

The image shown is for reference purposes only. The actual product may vary in shape or appearance based on climate, age, height, etc. and Plants will be delivered in plastic pots unless different Pot options are selected by the customer explicitly.

All information here is provided in good faith, however, we make no representation or warranty of any kind, express or implied, regarding the accuracy, adequacy, validity, reliability, availability, or completeness of any information on the site.